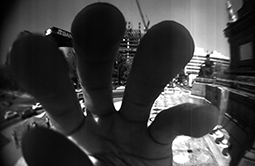 Inspired by Real Events
2004
"Inspired by Real Events" is a series of six black and white photos taken from the point of view of surveillance cameras in different public places of Mexico City. Each photo shows a volunteer climbing a ladder about to reach the camera with his or her hand. A video on a surveillance monitor shows the sequences captured by the cameras.
View Details.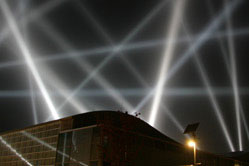 Amodal Suspension
Relational Architecture 8, 2003
"Amodal Suspension" is a large-scale interactive installation where people can send short text messages to each other using a cell phone or web browser. However, rather than being sent directly, the messages are encoded as unique sequences of flashes with twenty robotically-controlled searchlights, not unlike the patterns that make up Morse code. Messages "bounce" around from searchlight to searchlight, turning the sky into a giant switchboard.
View Details.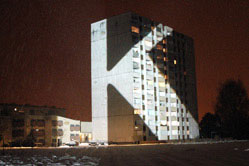 1000 Platitudes
2003
"1000 Platitudes" is a large-scale photographic intervention project. It is comprised of photomontages and a video with 1,000 words or expressions commonly used to promote globalised cities to potential investors, such as "open", "modern", "clean", "multicultural" and "cosmopolitan", for example. To make these images, a powerful projector (110,000 ANSI lumens of intensity for images of up to 70 x 70 metres) was placed on a 12-ton truck with a generator.
View Details.