Descending a Parametric Staircase
This piece is a generative animation showing a descent into a never-ending spiral staircase. From time to time, uncanny virtual naked people can be seen walking down the staircase. The work never repeats the same sequence of characters. "Descending a Parametric Staircase" is a homage to Duchamp's futurist composite "Nude Descending a Staircase" from 1912, taking its colour palette, and his "Rotoreliefs" from 1935.
General info
Spanish name:
Descendiendo una escalera paramétrica
French name:
Nu descendant un escalier paramétrique
50 cm
Technique:
Computer, custom LED circular display (256 x 256). Acrylic diffuser, Rosco gel, Powder-coated steel frame.
Room conditions:
Low or no natural light
Dimensions:
19.7 in / 50 cm, diameter 3 in / 8 cm, depth
Edition:
6 Editions, 1 AP
Collectors:
private collectors
120 cm
Technique:
computer, custom LED circular display (256 x 256)., acrylic diffuser, Rosco gel, powder-coated steel frame
Power:
200W on 110 OR 240V
Dimensions:
120 centimetre diameter (47.24 in), 8 centimetre depth (3 in)
Edition:
3 Editions, 1 AP
Collectors:
private collector
Credits
Programming: Kitae Kim
Industrial Design: Rebecca Murdock
Production and Installation Support: Stephan Schulz, Tegan Scott, Sarah Amarica, Karine Charbonneau, Pierre Fournier, Frederic Monast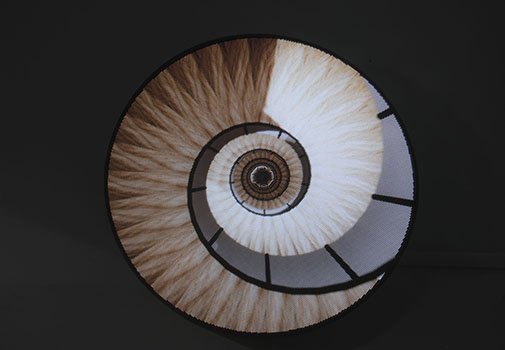 Photo library (click to expand)