Thermal Drift Density Map
"Thermal Drift Density Map" is an interactive artwork that visualizes the dispersion of body heat as emissions of thermal energy in the form of slow-moving packets or quanta that flow away from the participant. The project uses a thermal camera to detect heat, and a particle system to visualize its dispersion, while computational image-making reveals the porous boundary between body and environment.

Thermal cameras, which are increasingly used in policing and military contexts, are instruments illustrative of asymmetrical power wherein bodies made subject are rarely given the opportunity to see themselves in imaged form. In such applications, body heat, an essential human signature signalling life becomes a target that puts that vitality at risk.

In "Thermal Drift Density Map" the camera is placed in a safer and more playful environment, which affords it the opportunity to illustrate how body temperature paints personalized portraits, while using a shared signature of the human condition. The dispersive effect of "Thermal Drift Density Map" reveals how the human does not end at the skin but is in conversation with the surrounding atmosphere. Here dispersion also activates a re-distribution of power normally held by the position of image-taking, to allow the "spectral subject" to be on the witnessing end of the image.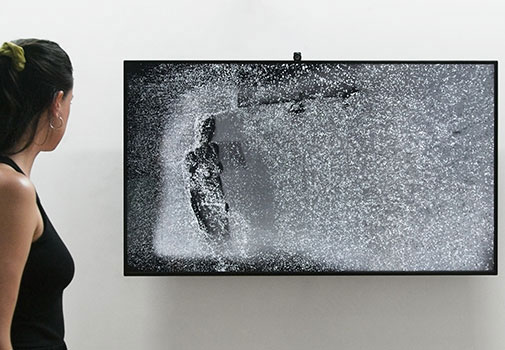 Photo Library (click to expand)
2022 - Antimodular Research