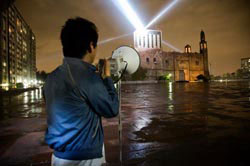 Voz Alta
Relational Architecture 15, 2008
"Voz Alta" (Loud Voice) is a memorial commissioned for the 40th anniversary of the student massacre in Tlatelolco. Participants who speak into a megaphone automatically control the brightness of four searchlights that relay their voice over Mexico City as quiet light flashes; tuning into 96.1FM radio allows people anywhere in the city to listen in live to what the lights are saying.
View Details.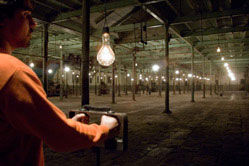 Pulse Room
2006
"Pulse Room" is an interactive installation featuring one to three hundred clear incandescent light bulbs, 300 W each and hung from a cable at a height of three metres. The bulbs are uniformly distributed over the exhibition room, filling it completely. An interface placed on a side of the room has a sensor that detects the heart rate of participants. When someone holds the interface, a computer detects his or her pulse and immediately sets off the closest bulb to flash at the exact rhythm of his or her heart.
View Details.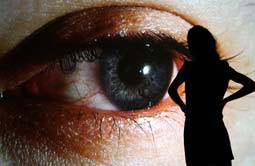 Surface Tension
1992
"Surface Tension" is an interactive installation where an image of a giant human eye follows the observer with orwellian precision.This work was inspired by a reading of Georges Bataille's text The Solar Anus during the first Gulf War: first wide-spread deployment of camera-guided "intelligent bombs". Present-day computerised surveillance techniques employed by the Department of Homeland Security in the United States through the Patriot Act, provide a new and distressing backdrop for this piece.
View Details.