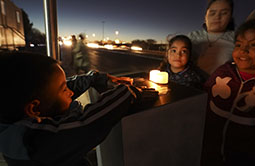 Remote Pulse
2019
"Remote Pulse" is an interactive installation consisting of two identical pulse-sensing stations that are interconnected over the internet. When a person places their hands on one station automatically the person on the other station feels their pulse, as the plates vibrate in sync with the heartbeat of the remote person, and vice versa. The piece was originally presented as part of Lozano-Hemmer's "Border Tuner" installation across the US-Mexico border.
View Details.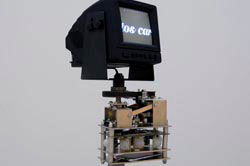 Cardinal Directions
Subsculpture 11, 2010
"Cardinal Directions", is a kinetic sculpture which consists of a surveillance monitor that displays an extract of Vicente Huidobro´s poem "Altazor" (1919-1931). Refering to the geography of his native Chile, Huidobro wrote "The four cardinal directions are three: North and South". When a presence is detected by infrared sensors, the monitor starts to rotate. As the poem is "geolocated" it always aligns itself to the cardinal points, and the public must walk around the piece in order to read it, like a kind of periscope.
View Details.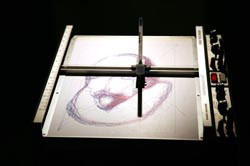 Seismoscopes
2009
The series "Seismoscopes" consists of devices that detect vibration around them, from footsteps to earthquakes, and record this vibration on paper using an automated XY-plotter. As each Seismoscope registers any seismic wave it is programmed to draw an illustration of a single Skeptical philosopher, over and over again.
View Details.