There Is No Business Like No Business
A blinking neon sign, designed during the recession as a cruel beacon of optimism. The blinking speed is directly proportional to the trading volume of any commodity index chosen by the collector or curator, say NASDAQ or Apple or FTSE100. In a slow day, or when the market is closed, the lines of illuminated text will only switch every 8 seconds, while on the busiest trading day they may blink every 2 seconds. The net effect of the piece is that at a glance of the neon sign one can get a "feel" for how many transactions were done that day.
General info
Technique:
neon tubes, metal, arduino, ipod, transformers, custom-electronics
Dimensions:
61 x 61 x 11 cm (WxHxD)
Edition:
6 copies + 1 AP copy
Exhibitions
Rafael Lozano-Hemmer: No Hay Mariachi, Armory Show Art Fair, bitforms gallery, New York City, New York, United States, 2013.
Transition States, Haunch of Venison, New York City, New York, United States, 2009.
Recent works, Galerie Guy Bärtschi, Genève, Switzerland, 2009.
Credits
Guillaume Tremblay - programming
Stephan Schulz, Pierre Fournier, Karine Charbonneau, Julie Bourgeois - production support
Bibliography
"Technology a 'work of art' at the'Haunted Mansion'", Hurriyet Daily News, Istanbul, Turkey, September 19th 2013 (english). Text of 3 pages. (Newspaper)
Waelder, Pau, "Rafael Lozano-Hemmer en el centenario del Armory Show", VIDA, Fundación Telefónica, Madrid, Spain, March 8th 2013 (español). Text of 2 pages. (Website)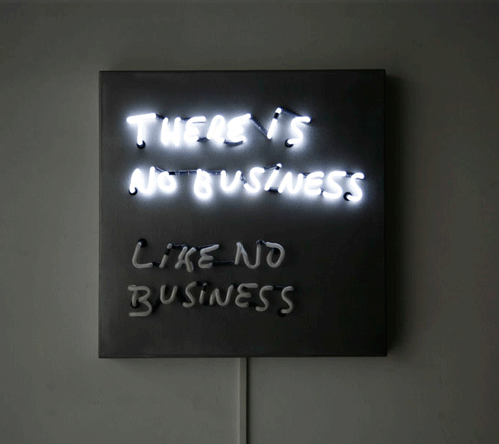 Photo library (click to expand)